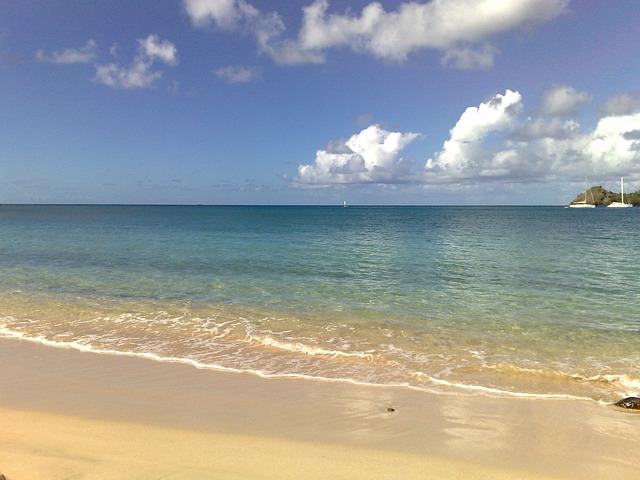 Secret Beaches to Visit in St. Lucia
Saint Lucia is home to some of the most beautiful beaches in the southeast Caribbean. Rather you're looking for something more secluded or want something more out in the open, Saint Lucia's beaches can cater to just about any preference for privacy and fun. At Barefoot Holidays, a travel agency in St. Lucia, we always get questions about the beaches of Saint Lucia and what it has to offer. We take great pride in showing the world what Saint Lucia has to offer and will do so with open arms and a warm smile. Let's take a look at some of the top secrete beaches to visit in St. Lucia. 
4 Secret Beaches To Visit in St. Lucia
Malgretoute Beach
If you travel down from Soufriere, St Lucia, you can visit one of the island's best hidden beaches, Malgretoute Beach. This semi-secluded beach has some of the clearest water on the island, making it the perfect swimming spot. Malgretoute beach is good for snorkeling on the island and is located on the road to Sugar Beach Viceroy Resort. 
Cas En Bas
This Cas En Bas Beach is known for being around a C-shaped bay and it's famous for horseback riding. Located on the northeast coast in Cap Estate, the steady winds offer a nice breeze to the coastline and make it the perfect place for both kitesurfing and windsurfing. Cas En Bas is also home to Marjorie's Beach Bar. At weekends, take some time and relax with a nice picnic or take your chances of catching the big one and go fishing. 
Anse Cochon
The mile-long, tire-crunching access road to Ti Kaye Resort & Spa leads to this dark-sand beach in front of the resort, which is reached by boat or car before walking down some stairs to the beach. Swimming, diving, and snorkeling are all excellent activities in the still waters and nearby reefs, which are a part of the National Marine Reserve. The majority of boat cruises to Soufrière make this stop on the northbound leg so that day-trippers can quickly cool off. Free moorings are available, and Ti Kaye's beach bar serves refreshments to boats and swimmers. At the dive shop on the beach, snorkeling gear is offered for a fee.
Anse L'ivrogne
Anse l'Ivrogne, also known as "Sevoigne" in the local Kweyol language, offers breathtaking views and is a popular scuba diving attraction, with trumpet fish, triggerfish, octopus, trunkfish, and other aquatic life. It also earned its scuba reputation due to its nickname, "Black Hole," which was inspired by a 2,000-foot drop. Locals who are daring come here to snorkel, horseback ride, explore 18th century sugar plantation ruins, and access the trailhead for Gros Piton hikes.
Ready to book a trip to the beaches of St Lucia?
We are the leading Independently Owned Destination Management Company on St. Lucia, serving the Leisure and MICE markets for over 30 years. Founded in 1988, we have been fulfilling the needs of discerning travelers clearly understanding their diverse requirements and needs. Barefoot Holidays St. Lucia has on staff a group of 18 full time travel professionals who have merged their talents, knowledge, resources and passion for travel and tourism to ensure the success of their clients' visit to the island. The company's success can be attributed to hard work, innovative procedures, profound knowledge, and the use of modern technology.
Call us today at 1-758-450-0507 for a consultation or free to email us at info@barefootholidays.com