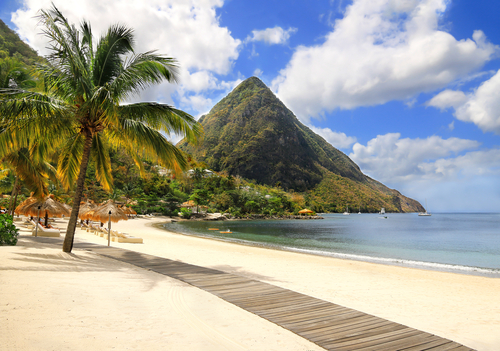 Things to do in St. Lucia during the holidays
Barefoot Holidays: Things to do in St. Lucia during the holidays!
St. Lucia is part of the Windward Islands of the Lesser Antilles, a long arc of islands on the edge of the Caribbean Sea. With the Caribbean on one side and the Atlantic Ocean on the other, it is a beautiful vacation destination, be it a destination wedding, couples spring break, a group retreat, or family Christmas getaway! There are two sides of St. Lucia, the South is the mountainous, more rugged region that is perfect for a couples retreat, while the north is filled with all-inclusive resorts, nightlife, and beaches that are perfect for the whole family. These are some of the best places to see, activities, and excursions Barefoot Holidays suggest to do in St Lucia during your holiday getaway!
Things to do in St. Lucia during the holidays:
Hike the Pitons
The Pitons are the two mountains that make St Lucia so recognizable in photos. The views are fantastic so if you like the great outdoors you will love this. If you don't want to take on the longer hikes, head out to the Tet Paul Nature Trail instead. This trail is one of the top tourist attractions in Saint Lucia as it is a short hike that showcases a view of the Petit Piton. On a clear day you can see the neighboring island of St. Vincent.
Enjoy the Diamond Falls waterfall
This colorful waterfall is located in the Botanical Gardens and it is laced with minerals, sulfur, copper sulfate, magnesium, iron, manganese and calcium, this contributes to the kaleidoscope of colors that make up the rock face behind the falls.
Lounge in a Mud Bath
Arrange a trip to St Lucia's Sulphur Springs with us and have a dip in a bubbling mud bath.  The volcanic mud is rich in minerals so it's rejuvenating. While you are at the Sulphur Springs there are also hot springs you can relax in and a waterfall that you can swim in.
Drive up to a Volcano
The drive up volcano in St Lucia is very close to the Sulphur Springs so you can do both at the same time.  You will see a lunar looking landscape with steam escaping from cracks, splashes of yellow sulfur and boiling cauldrons of water and mud. 
Zipline across the rainforest
Get your adrenaline pumping by gliding across the rainforest on a zipline! It's very exhilarating – and there are great views so well worth a try if you are a first timer.
St. Lucia Carnival
St Lucia Carnival runs every year between June and July and consists of various events throughout this period.  Expect parties, parades, impressive costumes and fantastic soca and calypso music.
Sunbath at one of the many beaches
Reduit Beach has the expansive shoreline, glorious sunsets and close proximity to the bars, restaurants and shops of Rodney Bay make for an easygoing beach experience. Adjacent to the Rodney Bay Marina, Reduit is also a great place to try water sports like windsurfing and waterskiing
Go snorkeling or diving
The snorkeling and diving in St Lucia is very good, some of the best snorkeling can be found in front of the Anse Chastanet beach where you might be able to see turtles.  There are over 20 snorkeling and dive sites in St Lucia with volcanic pinnacles, shipwrecks and coral reefs with a varied marine life. There are sightseeing cruises and deep sea fishing excursions as well.
Take a guided tour of Pigeon Island
Book a tour that includes a hike in Pigeon Point National Park and you can go exploring. This former pirate hideout and a military fort were turned into a national landmark in 1972. It's a great way to spend a half-day exploring its old ruins. The Pigeon Island National Landmark is an island connected to the mainland by a long causeway. 
Drink some Rum
The Caribbean Islands are filled with rum distilleries and St. Lucia is no different. There are rum tours and tastings. Learn how rum is made from sugar cane on St Lucia and then enjoy a taste of local rum!
Delicious cuisine
Revel in mouth-watering cuisine like salt fish and green fig, lots of seafood and dishes at many restaurants and resorts. 
Barefoot Holidays: Your Premier Travel Agency in St. Lucia 
We can help you find things to do, arrange places to stay, and set up Itineraries and tours. Plan your St. Lucia Getaway today! 
Barefoot Holidays is an Award Winning Full Service Destination Management Company. We have been in operation for over 30 years and continue to Redefine Unique Experiences for our valued clientele. 
Contact us now to book your holiday trip plans and have all of your St. Lucia trip questions answered!