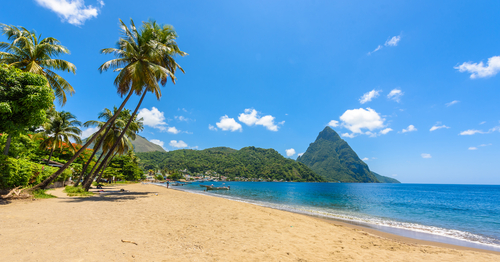 Horseback Riding in St. Lucia
Horseback Riding in St. Lucia
When visiting the beautiful island of St. Lucia, one of the most amazing experiences you can have is horseback riding. If you love basking in natural sights in a truly eco-friendly way, horseback riding in St. Lucia is a must. At Barefoot Holidays St. Lucia, your Travel Specialist in St. Lucia, we can make this dream come through.
Experience an enduring eco-friendly way on horseback. Located on the North-Eastern side of St. Lucia is a perfect place to explore open country hillsides with breathtaking views of St. Lucia's Atlantic coastline. Experience the views and enjoy long stretches of beach canter. You also have the opportunity to swim with your horse. Whether you are a beginner or an experienced rider, the experienced guides will ensure that you have a memorable time. This activity is a popular option to experience the magic of horseback riding on a tropical beach. Whether you are coming from a cruise ship or staying at an island resort, the horseback tours will introduce you to some of St. Lucia's amazing landscapes. This adventure is great for families or couples looking for some private time to enjoy nature.
About Barefoot Holidays
Barefoot Holidays St Lucia is an Award-Winning Full-Service Destination Management Company dedicated to providing a multitude of Services and excursions to visitors. We continue to craft Ideal Experiences and to welcome our many clients to the 'Barefoot Holidays St Lucia' family. No request is too small or logistically complicated for us to handle.