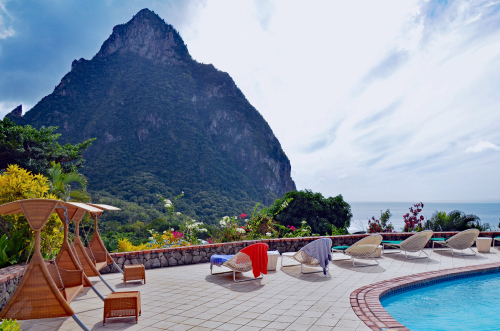 Best Honeymoon Hotels in St. Lucia
St. Lucia is a romantic island boasting beautiful weather, excellent resorts, and pristine beaches. Perhaps what sets it apart from the rest are its lush mountain peaks, and the famed Pitons, that make for the perfect backdrop to any romantic vacation. Barefoot Holidays St. Lucia, your St. Lucia Travel Specialists, will recommend a few of the best honeymoon hotels in St. Lucia.
Best Honeymoon Hotels in St. Lucia
Jade Mountain
Rising majestically above the 600-acre beach front resort of Anse Chastanet, Jade Mountain Resort on St. Lucia's south-western Caribbean coastline is a cornucopia of organic architecture celebrating St. Lucia's stunning scenic beauty.
Architect owner Nick Troubetzkoy has expanded upon his philosophy of building in harmony with Caribbean nature in his creation of Jade Mountain St. Lucia. The bold architectural design–individual bridges leading to exceptional infinity pool sanctuaries and rugged stoned-faced columns reaching towards the sky–makes Jade Mountain St. Lucia one of the Caribbean's most mesmerizing resort experiences.
Sugar Beach
It is clear from your first walk on the soft white sand: This luxurious St. Lucia resort is here to renew you. Enjoy the privacy and beauty of 100 acres of pristine rainforest. It is all at the site of an 18th-century sugar plantation and in the embrace of the UNESCO World Heritage-listed Pitons. Seek seclusion in private accommodations amid vibrant gardens and soaring trees. Reconnect and reflect as you explore every breathtaking angle of this island paradise — be it hiking in the Pitons, indulging in a treatment at the rainforest spa, or sipping a rum cocktail at the beachside bar. Not a day passes here without incredible memories made and peaceful moments found.
Ladera Resort
Once part of the Rabot Estate, one of Soufrière's oldest and most famous cocoa plantations, Ladera Resort stands today as a unique and luxurious resort and the only resort on a UNESCO World Heritage Site. The setting is breathtaking and unlike any other. Ladera resort is located on a volcano ridgeline 1,000 feet above the deep, blue Caribbean Sea, with stunning views of the Pitons. 

The resort's intimate design, with just 37 rooms and suites, offers the perfect setting for forging a connection to the beauty, romance, and lifestyle of St. Lucia. Befitting the resort's eco-friendly philosophy, each is uniquely constructed from locally harvested tropical hardwoods, stone, and tile. The furniture is made on site by St. Lucia artisans. The open wall in the suites gives way to a private plunge pool and magnificent views of the Pitons and Caribbean.
Calabash Cove Resort & Spa
Whether you are booking your first St Lucia all-inclusive vacation, or you are a returning guest, they firmly believe every visit to St Lucia and Calabash Cove should be a memorable experience. It is their intention to provide you with the best St Lucia all-inclusive hospitality, and you may find some of what they do a little old fashioned, hopefully romantic. The team members will remember your name and have time for a chat. Not just your waiter and bartender, but your room attendant, gardener, concierge, and the maintenance team.
Calabash Cove Resort and Spa provides live, but unobtrusive, music every night during dinner. The meals are always prepared fresh, the menu changes daily, and the restaurant has one of best views on the island – count the sailboats across the bay or the stars in the evening sky.
Cap Maison – St. Lucia – Luxury Resort & Spa
Cap Maison is set in a stunningly beautiful location with its own secluded sandy beach. Being both private yet near to the chic Rodney Bay area and adjacent to the St. Lucia Golf & Country Club, it is in one of the most sought after spots on the island appealing to both the active as well as those seeking a relaxed retreat.
The intimate and stylishly designed villa suites make it feel more like a private residence (albeit with impressive hotel facilities) providing the perfect setting to enable you to get the most from your precious time. Lovingly created, it is family owned and managed, so service is naturally friendly, personal, and attentive. Attention to detail is paramount, from the design to the service and the food. Featuring two of the best restaurants on the island, the Cliff at Cap, and the Naked Fisherman (along with one of the best stocked walks in wine cellars) it is definitely a hotel for food lovers.
About Barefoot Holidays
Barefoot Holidays St Lucia is an Award-Winning Full-Service Destination Management Company dedicated to providing a multitude of Services and excursions to visitors. We continue to craft Ideal Experiences and to welcome our many clients to the 'Barefoot Holidays St Lucia' family. No request is too small or logistically complicated for us to handle.