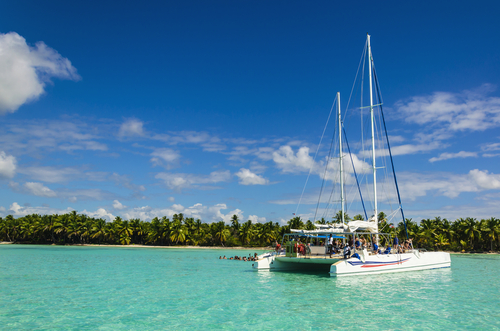 Catamaran Tours in St. Lucia
As part of your visit to St. Lucia, some of the most fun experiences you can have are Catamaran tours. They are fun for the entire family. Your Travel Specialist at Barefoot Holidays St. Lucia can organize a selection of exciting Catamaran tours for you, on your next vacation or getaway.
Sunset Catamaran Tours in St. Lucia
A full day Catamaran cruise is a must! A snorkel and sail is an amazing experience!
A Sunset cruise is unforgettable!
Sail down to the world-famous Pitons along the picturesque coastline with its numerous coves, bays and villages nestled along the coastline. Sail by towering cliffs wrapped in verdant greenery. See the majestic Pitons as they reach skyward out the sea.  
Or enjoy the "high spirits" of a true Caribbean Party sailing aboard a comfortable catamaran. Dance to pulsating rhythms, feel the cool evening breezes and enjoy your drinks. Watch the sun sink below the horizon in an amazing kaleidoscope of color. Mingle with new friends as the quick dusk descends to heighten this unique experience.
About Barefoot Holidays
Barefoot Holidays St Lucia is an Award-Winning Full-Service Destination Management Company dedicated to providing a multitude of Services and excursions to visitors. We continue to craft Ideal Experiences and to welcome our many clients to the 'Barefoot Holidays St Lucia' family. No request is too small or logistically complicated for us to handle.