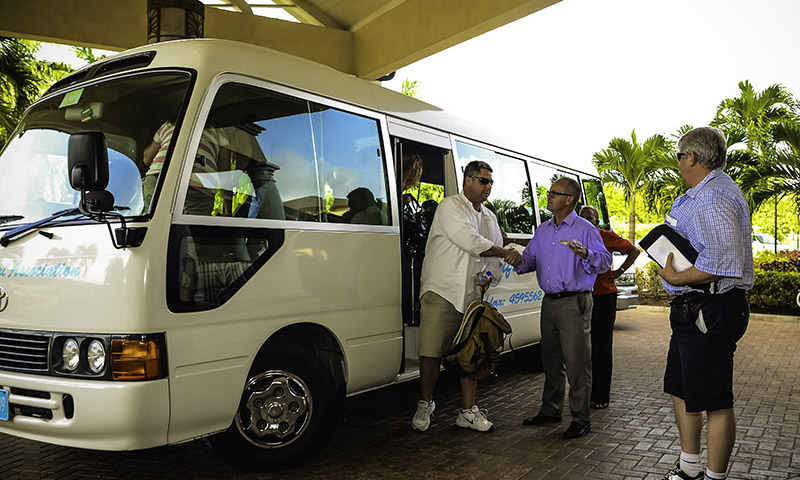 The Ultimate Guide to Airport Transfers on St. Lucia
When it comes to planning a trip to the stunning Caribbean island of St. Lucia, you're in for a treat not only when you reach your destination but also when it comes to getting there. Traditional airport transfers by car or coach have long been the norm, but if you're looking to add a touch of luxury and adventure to your journey, St. Lucia offers some exciting alternatives: Water Ferries and Helicopters. In this ultimate guide, we'll explore these unique transportation options, each catering to different preferences and budgets.
The Ultimate Guide to Airport Transfers on St. Lucia
Water Ferry Experience: A Serene Coastal Journey
Imagine stepping off your plane and being whisked away to a dock where a sleek Water Ferry awaits you. There's something undeniably serene about gliding across the water to your destination, taking in the breathtaking coastal views. Water ferries offer a refreshing departure from the hustle and bustle of traditional travel.
As you board the ferry, you'll be greeted with an unmatched view of St. Lucia, allowing you to take in picturesque vistas, the beautiful and scenic coastline, and the numerous coves and inlets along the way. The ferry ride not only offers a soothing transition after your flight but also allows you to bypass traffic and reach your accommodation efficiently.
How Does It Work?
Your vacation journey begins at the International Airport, where you'll be welcomed by a Barefoot Holidays Representative. They'll escort you to an air-conditioned vehicle, which will transport you directly to the Water Ferry. Upon arrival at the ferry, you can choose to be seated either in the air-conditioned cabin or on the open-air upper deck. The journey lasts between 90 minutes to 2 hours, during which you can enjoy complimentary wine, beer, champagne, and mimosas for adults, as well as snacks, soft drinks, and bottled water for everyone.
Helicopter Experience: A VIP Aerial Adventure
For those seeking a truly luxurious and thrilling airport transfer experience, a helicopter ride is the way to go. Imagine stepping out of the airport and boarding a helicopter, where the propellers begin to spin, and you're lifted into the sky, offering you a bird's eye view of the island.
Helicopter transfers offer a blend of luxury and speed, providing a VIP experience and an undeniable sense of awe. This option is especially convenient if your hotel is located in the north of the island, as it allows you to quickly and hassle-free travel from the International Airport in the south.
How Does It Work?
Upon your arrival at the International Airport, you'll be greeted by a Barefoot Holidays airport representative holding a sign with your name. They'll then transfer you to the helicopter representative who will guide you to the heli-pad. The helicopter flight itself is approximately 12 to 15 minutes long, giving you a breathtaking perspective of the island from above.
While your luggage will be transported by road to your resort, you're welcome to bring one small piece of luggage with you aboard the helicopter. After the flight, a private vehicle will be waiting to transfer you from the heli-pad to your hotel.
Things to Know When Booking a Helicopter Flight in St. Lucia
Consider packing a change of clothing and perhaps a swimsuit as your main luggage could arrive 2 to 2 ½ hours after you reach the resort.
There's a weight restriction of 250 pounds per passenger (maximum).
So, whether you choose to start your vacation by Water Ferry, Helicopter, or traditional Car/Coach transfer, there are numerous transportation options available to get you to your accommodation on Saint Lucia. Remember, the journey to your resort is part of the fun, so make sure to capture as many photos and videos as you can. Your trip to St. Lucia promises to be a fun and memorable one, and Barefoot Holidays is here to assist you in selecting the perfect airport transfer.
See you there! Enjoy your adventure on this beautiful Caribbean gem!
Airport Transfers with Barefoot Holidays
Enjoy the comfort and convenience of a warm & friendly welcome by our airport team when you arrive on the island. Experience hassle free travel from any one of St. Lucia's two airports to your hotel/port or villa, by booking your airport transfers with us. Look out for the Barefoot Holidays booth as you exit the secure arrivals area, where our Airport Team will greet you and coordinate your transportation. Simply sit back, relax as you travel in air conditioned comfort to your destination. Your return transportation is of vital importance, so let us make those arrangements for you.