Barefoot Holidays DMC celebrates with The Saint Lucia Culinary Team at Caribbean Hotel and Tourism Association's (CHTA) Taste of the Caribbean Competition which was hosted at the Hyatt Regency in Miami from the 20th to the 24th of June. This leading competition-styled Culinary Event is held in high esteem in the Caribbean region as it has assisted in discovering and showcasing new talents, providing professional development and inspiration by the participants. There are five fun filled days of ongoing workshops, tastings and demonstrations.
Our young Team comprised seven chefs and one bartender who represented the country and gained recognition in every category in which they competed. With a sterling performance The Saint Lucia Culinary Team stood their ground in the face of a fierce competition from ten other teams (Anguilla, Bahamas, Barbados, BVI, Curacao, Haiti, Jamaica, Puerto Rico, Trinidad and Tobago and USVI) and triumphantly returned with Gold, Silver and Bronze Medals and Two Special Awards.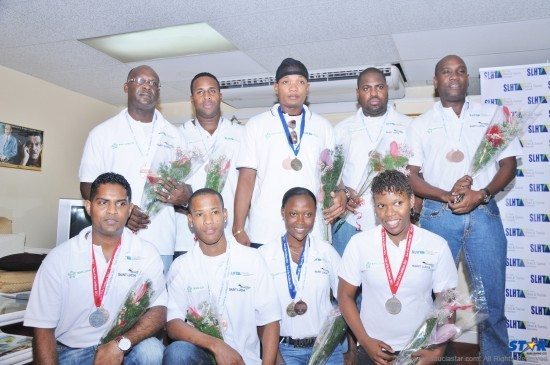 The honors captured by the St Lucia Culinary Team are as follows
    Gold Medal – Chef of the Year Competition – Elijah Jules – Jade Mountain
    Silver Medal – Junior Chef – Paulyn Eugene – Windjammer Landing
    Silver Medal – Pastry Chef – Dulish Perera – The BodyHoliday LeSPORT
    Bronze Medal – Seafood Competition – Delroy Fred – Coconut Bay
    Bronze Medal – Beef Competition – Odeen Martin – Fire Grill
    Bronze Medal – Bartending Competition – Barkus Henry – Sandals Regency
    Bronze Medal – Team Competition – Saint Lucia Culinary Team
    Special Award – Best Use of Chocolate – Dulish Perera – The BodyHoliday LeSPORT
    Special Award – Best Use of Cheese – Emmerly Gerald – The Landings Resort
Not only is our team`s performance a brilliant achievement to celebrate, but it is also indicative of the high standard of the island`s Culinary Offerings, which are intimately correlated to the success of the tourism industry. The entire Barefoot Holidays staff congratulates our St. Lucia Culinary Team: We are extremely proud of your accomplishments and wish you all the best in your future endeavors!