"Elevate Yourself" on St. Lucia
"Health and Cheerfulness Naturally Beget Each Other".  ~Joseph Addison
Wellness is a relatively new concept that expands our idea of health. Beyond the simple presence or absence of disease, wellness refers to optimal health and vitality—to living life to its fullest. The importance of preserving our health and promoting our wellness is critical to most of us, but as we all know, sometimes one needs a little extra incentive to reach one's goals. Maybe a getaway to paradise can help!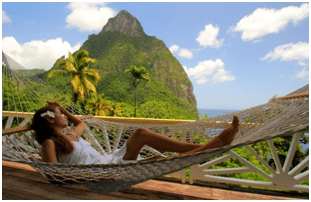 Travel to the beautiful island of St. Lucia for one of the most anticipated wellness events in the Caribbean, the annual St. Lucia Health & Wellness Retreat.
From November 1st to November 3rd, the island holds the most rejuvenating weekend-long health retreat exploring themes such as mental wellness, spiritual awakening, anti-ageing, nutrition and healthy cooking, yoga and natural healing remedies.
Local and international experts in the realms of cuisine, alternative therapies and holistic living will become facilitators for a rich and diverse program, which will develop among different locations island wide.
The celebrity teams includes
Cat Cora, the first and only female "Iron Chef" and co-host of Around the World in 80 Plates on – Bravo;
Gabrielle Bernstein, New York Times Bestselling Author and founder of the social networking site HerFuture.com;
John Schumacher, Master Yogi with over 40 years of experience and founder and director of Unity Woods Yoga Center;
Luke and Joanna Gray who operates a lifestyle company aimed at transforming lives through fitness, food and lifestyle.
Treat yourself to a refreshing and rejuvenating holiday and start your personal journey to relaxation. The spectacular Caribbean setting and the holistic approach of the retreat will transform your getaway into an invigorating and healthy experience.